Shop Vac Hose By Diameter Below
Important Factors for Choosing Leaf Vacuum Hose
"Service and follow thru, as well as your product, exceeded my expectations… many thanks.​‌"
Charles Rochester, NY
"Thank you for the informative videos done by the owner, they helped us to know what we needed without having to call and take up your time!​‌"
Chuck & Wife Athens, GA
"I purchased mulch transfer hose for a TracVac rebuild. The hose I bought from Ken Jones is far better than the original. The machine functions better than new. Thanks.​‌"
Vince K.
Choosing the Right Hose for Lawn & Garden Applications
Buying lawn or leaf vacuum hose, lawn vacuum hose or mulch hose DOESN'T have to be confusing!  You just need to know what is most important to you and for your  application. Whether you are just looking to replace the vac hose for your  leaf vacuum system, or need a more durable hose for mulch blowing, straw blowing or grass and twig vacuum applications, we will help you find the RIGHT hose for the job.
In many cases, the most important factor in purchasing hose is its ability to resist punctures and tears.
Urethane hose is the most puncture resistant and our Flex Tube PU is highly recommended for mulch blowing. It is also the best for leaf and grass collection.
The Flexadux T-7W and Flex Tube TR hoses are made of a thermoplastic rubber material. They are both puncture resistant and work well in extreme weather temperatures. The Flexadux T-7W is the least expensive product.
PVC hose is generally the least puncture resistant, but our Flex Tube PV has its advantages. The wall is heavier than other PVC hoses, making it more heavy duty and extremely popular for leaf collection. It also has a smooth interior for excellent flow of materials, and is clear, for user visibility.
***if you get to the shopping cart and the hose size you have selected is not in stock, it does not mean that is not available. It simply means that size needs to be cut for your order.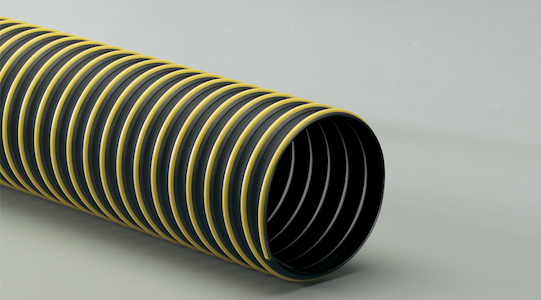 Flexadux® T-7W
Flexadux® T-7W is an all purpose lawn & leaf vacuum hose.
It is a medium weight wire reinforced thermoplastic rubber hose w/ an external wearstrip and a semi smooth inner wall
It is our least expensive hose product and is intended for general residential or light commercial use
Choose Size for Price
Flex Tube® TR
Flex Tube TR Vac Hose is a medium weight black co-extruded thermoplastic rubber hose with a rigid black external polypropylene helix.
It features an ultra smooth interior wall for maximum efficient airflow
The hose is very flexible & crush resistant
Tight bend radius and is moisture & chemical resistant
It is designed for applications with a wide range of temperatures
The helix acts as a wearstrip
Choose Size for Price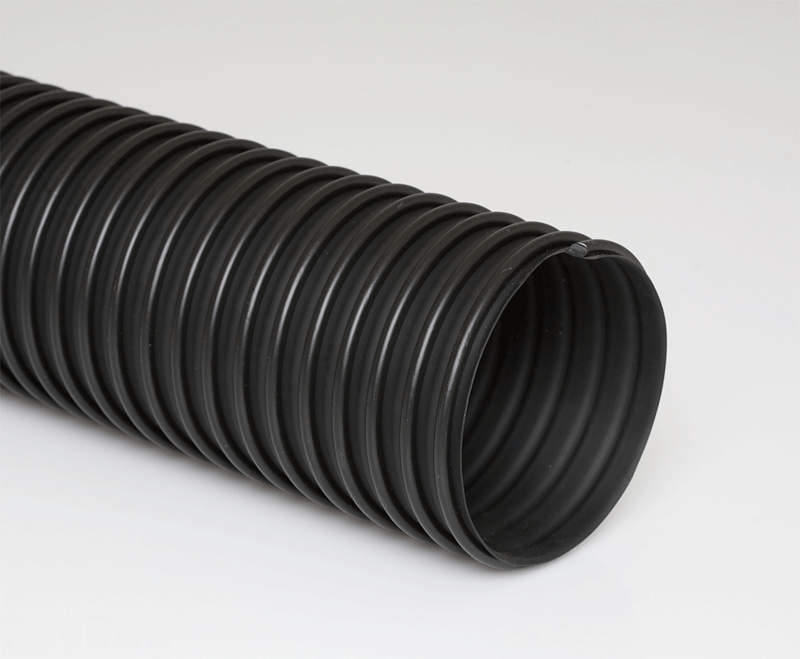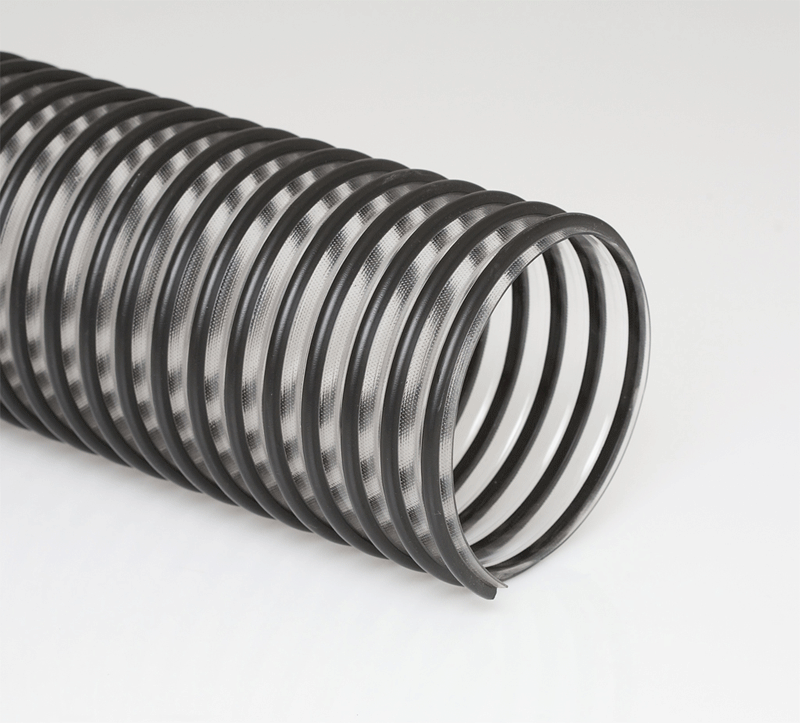 Flex Tube® PV
Flex-Tube PV features and benefits:
Medium weight
Economical
Ultra smooth interior wall for efficient airflow
VERY flexible and crush resistant
Spiral co-extruded engineered construction
Helix acts as a wear strip
Wall thickness= .030″ (2.5″-3″), .032″ (4″), .035″ (5″-8″), .040″ (9″-10″)
OEM lengths available
Available in a flame retardant version(Flex-Tube PV-FR)
Cuffs available
Choose Size for Price
Flex Tube® PU
Flex Tube PU vacuum hose is a medium weight clear co-extruded polyurethane hose with a rigid yellow external ABS helix primarily used for leaf collection and lawn & garden vacuum applications.
Features an ultra smooth interior for efficient airflow
It offers excellent abrasion resistance and wear performance
Puncture, crush & tear resistant
Good low temperature flexibility
Helix acts as a wear strip
Excellent hydrolysis & microbial resistance
Cuffs also available
Choose Size for Price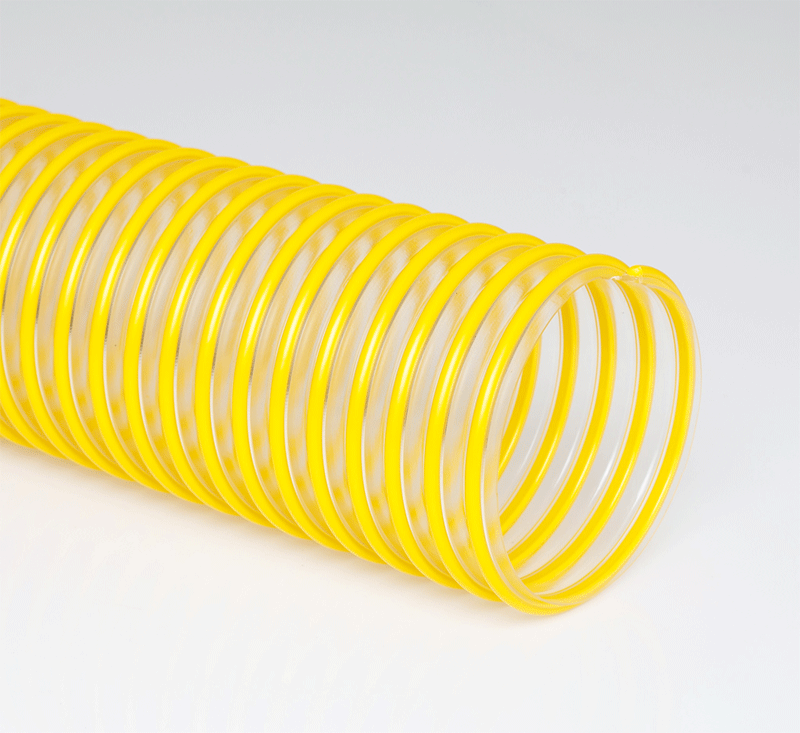 Which Hose is Best for You?
View Our Leaf & Lawn Vac Hose Chart that simplifies the various characteristics of the hose we carry. Hopefully this will help you make the right decision.
As with all of the products Ken Jones Tires offers, we offer expert product support and are just an email, live chat or phone call away! Unlike other online companies, we ENCOURAGE you to call us if you have any questions.
Choose your application and your size and we will get the right hose shipped to you! A quality vac hose will keep your equipment running throughout spring and fall clean up seasons. Whether you are cleaning out leaves or blowing mulch, the right vacuum hose will get the job done!