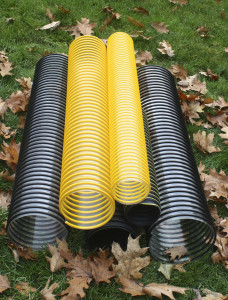 Well Fall is officially here and it is time to start thinking about fall clean up. Whether you are a landscaper or a home owner, leaf removal is part of the annual ritual. So before you start any project, take a few minutes to inspect the hose on your leaf and lawn vacuums. If you have tow behind or trailer vac truck, this is especially true, as a torn or cracked hose could cause expensive down time.
The video above helps you choose the right hose for your application. They come in various grades of quality and flexibility which will determine which hose you should purchase. After watching the video, the best place to start is the chart we put together.
Click here for Leaf Vacuum Hose Selection Chart
If you are still not sure what you need, just give us a call- we are happy to help!
Call 1-800-225-9513 for Leaf Vacuum Hose Product Support
Watch the videos below to get a better idea of which product is best for you
Flex Tube PU

Even though we call this a mulch hose, it is also for leaf and lawn vacs when extra puncture resistance and durability is needed. Our best hose for heavy duty commercial use.

Flex Tube PV

Best for homeowner or light duty commercial applications. Great for grass clippings, leaves or other soft material.

Flexadux T-7W

Most economical. Designed for homeowners as well as occasional to moderate commercial use. Great for grass clippings, leaves, small twigs,
etc…

Flex Tube TR

Designed for moderate to heavy duty commercial use.