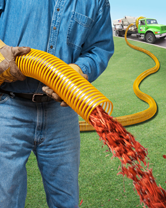 When replacing hose for mulch blowing applications there are a few factors you may want to consider… The longer lengths needed for this application (generally 50′, 75′ and 100′ lengths), make it extremely important to choose the right product to keep your projects running smoothly and worker fatigue to a minimum. Puncture and tear resistance are always going to be one of the most important considerations, but with bark mulch blowing, ease of use, flow of material, and clear visualization in case of clogs can really make your spring projects move faster.


Weight of Mulch Hose
Because mulching applications require a longer length vac hose, the weight of the hose should be considered. Conventional heavier weight hoses will cause greater worker fatigue and slow down project progress in general. Flexaust® PU polyurethane hose is 80% lighter than conventional PVC bark mulch hose.
Flexibility and Ease of Use
It is easier to handle, and remains flexible even in colder temperatures in the early spring and late fall (-40 degrees to 200 degree range). It is 33% more flexible and has a smooth interior for easier flow of materials.
Availability in Longer Lengths
Mulch blowing generally requires longer lengths of vac hose than leaf and lawn vac applications. Flexaust® PU comes in lengths of up to 100′.



Any questions about what hose is right for you? Just give us a call at 1-800-225-9513.
As with all the products we sell, Ken Jones is here to help you find the right product for your needs and your budget!
Ready to shop for mulch hose?


We ship Mulch Hose anywhere in the US!
.